Kinder Beauty
|
beauty, Blog Post, clean beauty, Health, Service Journalism
December 2022
What is cosmetic acupuncture? Is it better than facials? Or Botox? How can it help my skin as I get closer to 40? I had questions, and I needed answers. So, during an incredibly stressful season in need of maximum self-care, I tried cosmetic acupuncture. My main goal: improving the lines between my eyebrows and firming my jawline. My other goal: taking care of myself.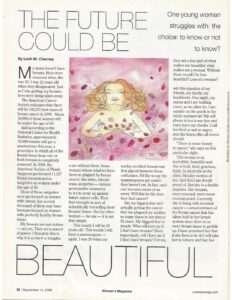 Women's Magazine
|
Cover Story, Health, Personal Essay
September 2009
Cover story for Women's Magazine, a defunct monthly publication by the Boulder Daily Camera; this first-person longform narrative discusses the BRCA1 and BRCA2 genes, my family history, and my own struggle with the choice to know or not to know about my fate with cancer.