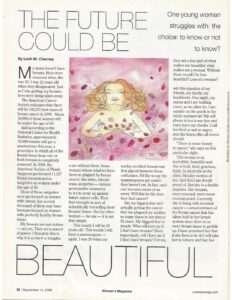 Women's Magazine
|
Cover Story, Health, Personal Essay
September 2009
Cover story for Women's Magazine, a defunct monthly publication by the Boulder Daily Camera; this first-person longform narrative discusses the BRCA1 and BRCA2 genes, my family history, and my own struggle with the choice to know or not to know about my fate with cancer.

Women's Magazine
|
Interview, Sex & Relationships
April 2009
Greg Behrendt may not be a household name, but you definitely know him. He's a stand-up comedian and was a consultant for "Sex and the City." Oh, and there's that little book called "He's Just Not That Into You," which recently became a movie starring the likes of Drew Barrymore and Jennifer Aniston.

Women's Magazine
|
Column, Personal Essay, Sex & Relationships
April 2009
I have a whole crop, eight or nine of them — men I've never slept with, never been on more than a few dates with, who disappear and reappear every few months.