Portfolio
Event Marketing
Colfax Ave Business Improvement District
|
Arts & Culture, Blog Post, Event Marketing, Listicle
August 2018
The Cheapstake. The Glutton. The Breeder. These are the people out on "the most democratic street in America" celebrating the gritty magic of Colfax at Art-i-fax.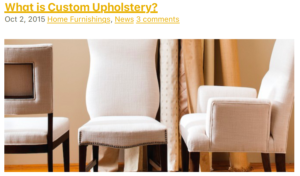 HW Home
|
Agency Work, B2C, Blog Post, Event Marketing, Retail
October 2015
What is custom upholstery and how can it change your life (or at least how you feel about your home)?

Colfax Ave Business Improvement District
|
Blog Post, Event Marketing
July 2018
Come play in the street as we turn Park Ave. into a plaza for the public at our third annual Art-i-fax. We'll bring our diverse Colfax community together, shutting down Park Ave. from Colfax to Humboldt streets. You don't have to imagine what a more pedestrian- and bike-friendly Colfax would look like, we'll show you!